Description
The vacuum filter belt is also called the flue gas desulfurization filter belt. Vacuum filter belts are specifically designed for the separation of solids from fluids in horizontal belt filter systems. Vacuum Filter Belt is mainly used for FGD in power plant, mine tailings disposal, metallurgical, chemical, coal chemical industries, and Vacuum Filter Belt can also be used in food, pharmaceutical, environmental protection, and other solid-liquid separation industries.

The vacuum filter belt is made of high-strength polyester yarn and multifilament, double-layer interweaved, on the basis of retaining fine particles, ensuring air permeability, which can greatly improve the efficiency of the production enterprise.
Feature
● Using high-strength polyester raw material, greatly improves wear resistance of filter belt, smooth surface, easy to clean.
● The steel clip connection uses industrial-specific 316L stainless steel, which has high strength and can resist strong acid and alkali corrosion.
● The vacuum Filter Belt has the characteristics of stable running, not easy to wrinkle, high filtration rate and it can peel off easily from the filter cake.
● Vacuum filter belt made from mixed polyester mono-filaments and multifilament performs excellently in areas of flue gas desulfurization and filtration such as sludge dewatering.
● The vacuum filter belt can meet different filtration accuracy requirements (2-100μm).
● Good wear resistance, good acid and alkali corrosion resistance, thickness of more than 1.6mm, greatly enhance the service life of the vacuum filter belt.
Application
Polyester vacuum filter belts Mainly matching with vacuum rubber belt filter, horizontal vacuum belt filter, vacuum drum filter and vertical filter press. Mainly used in the following industries:
● Power plant desulphurization. Vacuum filter belts widely used in flue gas desulfurization, limestone-gypsum dehydration in wet desulfurization with a horizontal vacuum belt filter.
● Sludge dewatering. Vacuum filter belts widely used in the sewage sludge treatment plant, power plant, steel plant, papermaking, mining, metallurgy, petroleum and other industries.
● Process filtration for large-scale industrial production. Compatible with a wide range of filter types, vacuum filter belts widely used in filtration of tailings, coal washing, pulp washing, alumina, and other industries.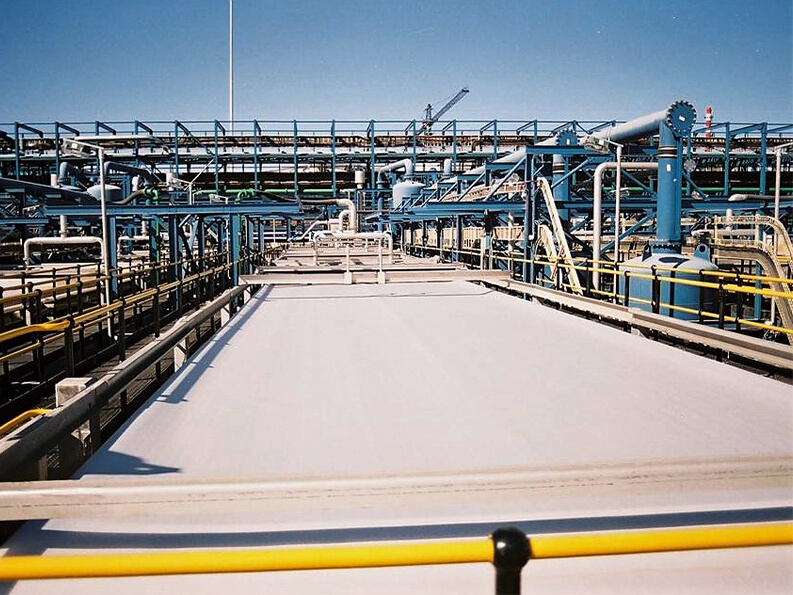 Specifications
Model
Filament diameter
(mm)

Density

(wire/cm)

Strength
(N/cm)
Weight
(Kg/m2)
Thickness
(mm)
Air permeability
(m3/m2h)
Filtration accuracy
(um)
warp
waft
warp
waft
surface
joint
27508
Flat yam 50*32
6*0.18+0.5
28.5
25
2200
1000
1.2
1.95
1600
50-80
27508-1
Flat yam 50*32
600D filament +0.5
28.5
21
2200
1000
0.9
1.9
720
20-50
27508-2
Flat yam 50*32
600D filament +0.5
28.5
25
2200
1000
1.3
2
280
2-10