Description
Polyester plain weave mesh fabrics are also called linear screen cloth or polyester mesh conveyor belt. The weaving pattern is 2-shed and 3-shed available in various meshes, caliper, GSM and air permeability for different applications. They are widely used in various industries as dryer fabrics, conveyor belts, filter cloth and food & vegetables drying mesh belt.

2-Shed Polyester Linear Screen
Filter fabrics with the 2-shed plain weave have high weave stability and predefined uniform size of apertures, so they can also be used to sort particles according to their size on linear screen separators.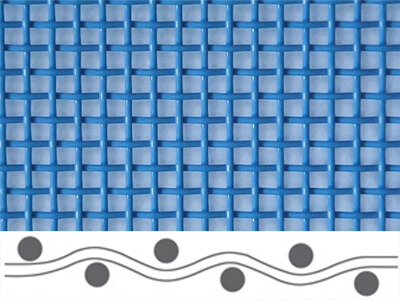 Polyester Linear Screen for 2-Shed
3-Shed Polyester Linear Screen
Filter fabrics with the three-shaft twill weave have a very high dewatering ability and a higher wear resistance than fabrics with the plain weave.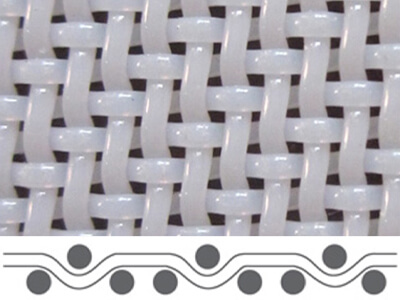 Polyester Linear Screen for 3-Shed
Feature
● Linear screen cloth has an accurate open area and aperture is uniform
● The nature of polyester mesh belt is such that it offers a very durable long-lasting media for extended life.
● Strong polyester fibers provide excellent stability and good wear resistance.
● All kinds of joint are suitable included endless joint
● Food approval: US FDA approval
● Working temperature: -75°C to +150°C
Application
● Pulp boards making.
● Wood industry: Dryer belts of woodchips, particle boards, MDF/HDF, etc.
● Nonwoven cloth industry.
● Food drying.
● Material screening and separation.
● Environment protection: sludge dewatering in belt press filters.
● The pre-cleaning process before fruit and vegetable processing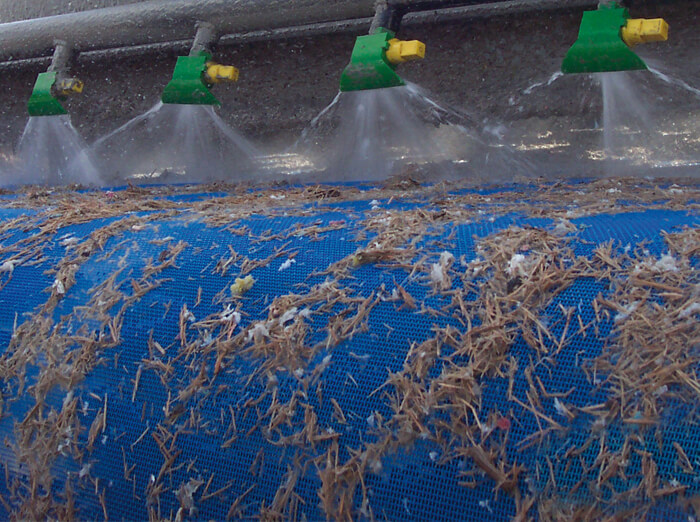 Polyester Linear Screen Mesh Belts for Washing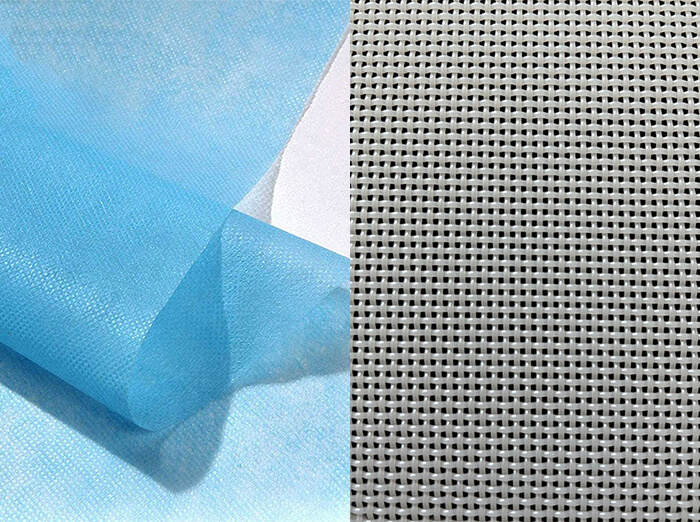 Polyester Linear Screen Mesh Belts for Nonwoven
Specifications
Model

Wire diameter

(mm)

Density

(wire/centimeter)

Strength
(N/cm)

weight

(kg/m2)

Thickness
(mm)

Mesh Radial/latitude

(mm)

Aperture Radial/latitude

(mm)

permeability

(m3/m2/h)

CFM/127Pa
open aven
warp
weft
warp
weft
surface
joint
021002 blue
1
1
2.85
2.65
1600
650
0.6
1.85
7.10/6.73
2.50/2.77
32000
2000
52.55
031002 blue/white
1
1
3.2
3.25
1600
650
0.8
1.86
8.10/8.20
2.12/2.07
25600
1600
45.9
03902
0.9
0.9
3.9
3.65
1600
650
0.55
1.7
9.60/9.30
1.66/1.83
20000
1250
46.58
04902
0.9
0.9
4.65
4.7
1600
650
0.95
1.66
44542
1.25/1.22
17600
1170
33.55
04602
0.5
0.6
4.4
5.2
1600
650
0.58
1.23
12/13.2
1.72/1.32
19000
1187
53.32
05602
0.6
0.6
5.9
5.6
1600
650
0.62
1.1
14.98/14.2
1.09/1.18
18000
1125
42.89
05802
0.8
0.8
5.1
5.3
1600
650
0.89
1.48
13/13.5
1.16/1.08
15840
990
34.09
06652
0.65
0.65
7.4
6.8
1600
650
0.65
1.19
18.8/17.3
0.70/0.82
14400
1190
28.96
06802 blue/white
0.8
0.8
6.6
6.5
1600
650
0.85
1.45
16.8/16.5
0.72/0.73
11600
725
22.65
06702 blue/white
0.7
0.7
7
7
1600
650
0.77
1.3
17.8/17.8
0.72/0.72
11000
690
26.01
07802
0.8
0.8
7.8
7
1600
650
1.1
1.45
20.3/18
0.32/0.54
5920
370
16.54
09502
0.5
0.5
9.7
10.3
1600
650
0.5
0.9
25/26.2
0.53/0.47
10100
634
24.97
012502
0.5
0.5
13.5
8.5
1600
650
0.63
0.95
34.3/21.6
0.24/0.65
6500
6280
18.68
09452
0.45
0.45
10
8.6
1600
650
0.45
0.88
25.4/21.8
0.55/0.71
15570
970
33.71
08603
0.5
0.6
9.4
9
1600
650
0.6
0.95
23.8/23.1
0.56/0.51
9000
560
24.38
08502
0.5
0.5
9.5
8.6
1600
650
0.89
0.47
24.13/21.8
0.50/0.65
10140
634
29.93
06803
0.7
0.8
7
5.5
1600
650
0.75
1.53
17.8/14
0.72/1.0
16000
1000
28.56
Alkali resistance
PA061002
1
1
4.5
5.5
1600
650
0.65
1.63
17/14
0.35/0.60
5920
370
14.85
09603
0.5
0.6
10.5
9.2
1600
650
0.65
1.05
26.67/23.4
0.45/0.48
8300
518
44.87
07803
0.8
0.8
8
8
1600
650
1.15
1.66
20.3/20.3
0.45/0.45
6400
400
16.26
07903
0.8
0.9
7.6
6.5
1600
650
1.25
1.76
19.3/16.5
0.51/0.63
9184
574
12.96