Description
The sludge Dewatering belt is a kind of press filter belt. It is designed for solid-liquid separation, especially sludge dehydration in the sewage treatment industry. The combination of high-quality polyester or nylon monofilament, weave type as well as the correct opening and permeability makes our process belts particularly effective and robust and guarantees resistance to abrasion and chemical influences. Because they are manufactured on heavy-duty looms and additionally reinforced through a thermal fixing process, press filter belts also boast a particularly high level of mechanical stability. It is suitable for press belt filters and various vacuum belt filters. PFM Screen press filter belts are ideal for belt presses, vacuum belt filters, and sludge dryers.

The press filter belt operates as a key part of the belt filter press as it determines the actual output and quality of the filtration process. Our fabrics are made with reasonable weave structures and special yarns for different applications to achieve rapid draining and good filter cake release.
Use special stainless-steel seams, compared to conventional hook seams, blades and sludge distributors can glide over the seam area far more easily, and the special seam is stronger, more durable and possesses better running properties. Furthermore, the risk of damage to the seams is reduced to a minimum, the seam area is closed more tightly and product penetration is reduced.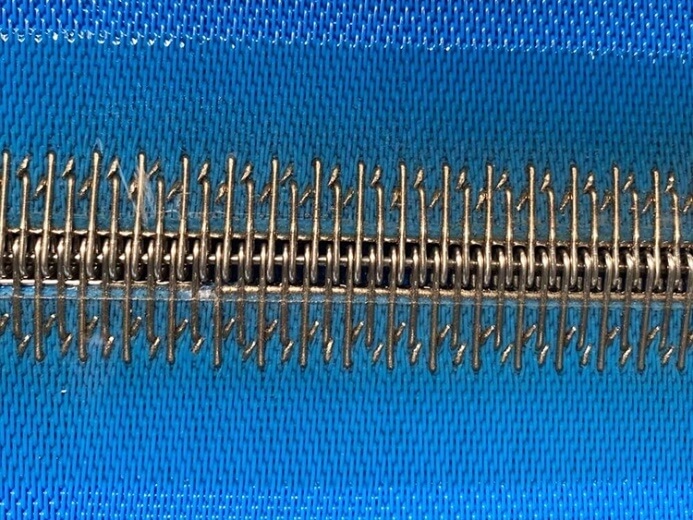 Stainless-Steel Seams
Our range of polyester sludge dewatering belts are available in various woven patterns, such as three-shed stain woven, four-shed level woven, four-shed stain woven as shown in the following pictures.
| | |
| --- | --- |
| | |
| Three-shed stain woven pattern | Four-shed stain woven pattern |
| | |
| 2/7 stain woven pattern | Three-shed double layer pattern |
Feature
● The special twill weave ensures precise filtration results, and smooth surface makes filter cake comes off easily, the high-quality polyester and nylon monofilament yarn make our woven mesh filter belt fabrics being chemically-resistant, good strength could withstand the greatest mechanical stresses and long service life.
● After FDA certification, it can be safely used in the food processing industry.
● A wide range of custom sizes can be customized within 8 meters wide and 200 meters long according to requirements.
● When using heavy-duty looms, heat setting treatment should be performed to minimize the risk of deformation and wrinkles.
● Remarkable acid and alkali resistance, abrasion resistance and corrosion resistance, and longer service life can deal with dirt with a pH value from 1 to 14.
● Temperature stability up to 200°C, can be used at -20°C to 200°C working temperature.
● Quick and easy to clean
Application
● Municipal sludge, industrial sludge, biologic sludge, dewatering, and drying belt filter cloth for belt filter press.
The synthetic woven mesh filter belts are most widely used in dewatering and drying for municipal sludge, industrial slurries, and biologic sludge, and aid the mine tailing dewatering process for its capacity of continuous working and high efficiency.
● Fruit and vegetable juice pressing and dewatering
PFM Screen FDA compliant polyester mesh press filter belt is suitable for juice extracting and pressing from fruit and vegetables on the belt press filters, especially for apple, pear, thorn pear, ginger and other berries, nuts.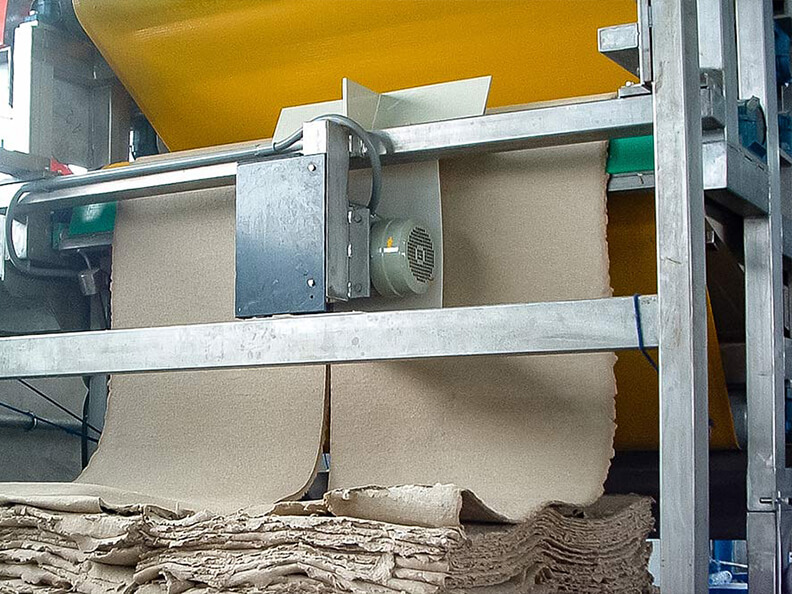 Specifications
Model
Filament diameter
(mm)
Density (wire/cm)
Strength
(N/cm)
Weight
(Kg/m2)
Thickness
(mm)
Air permeability
(m3/m2h)
CFM
(127/pa)
warp
weft
warp
weft
surface
joint
31505
0.4
0.5
33
9
1600
900
0.8
1.3
2976
186
26508
0.5
0.5
28
18.5
1600
900
1.2
1.5
2050
128
2470
0.5
0.7
24
9
1600
650
1.23
1.9
7520
470
22903
0.5
0.9
23
5.5
1600
900
1.4
1.9
8480
530
27708
0.5
0.7
28
8.5
1600
900
1.53
2
4896
306
26908
0.5
0.9
26.2
6.2
1600
900
1.49
2.15
6080
380
24908
0.5
0.9
24.8
7.1
1600
900
1.48
2.1
7360
460
24808
0.5
0.8
24.8
8
1600
900
1.4
2
6880
430
16903
0.7
0.9
16.3
5
1600
900
1.5
2.1
7520
470
16903 blue
0.7
0.9
16.3
5.8/6
1600
900
1.7
2.1
5550/3968
347/248
15905
0.9
0.9
15.3
5
1600
900
2.1
2.77
7840
490
151105
0.9
1.1
15.3
6.3
1600
900
2.45
2.85
9280
580
151105PA/PET
mixed yarn
0.9
1.1
15.3
6.3
1600
900
2.45
2.85
9280
580
12904
0.9
0.9
12.3
9.5
1600
900
2.2
3.5
9600
600