Description
Under certain conditions of temperature and humidity, the equipment using a polyester mesh belt will produce high friction electrostatic when it runs at a high speed.
Although the static current is usually of low intensity, it can be the cause of problems like when light pieces of product stay adhered to the surface of the belt which reduces the efficiency and product quality, or combustion risk in environments sensitive to deflagration.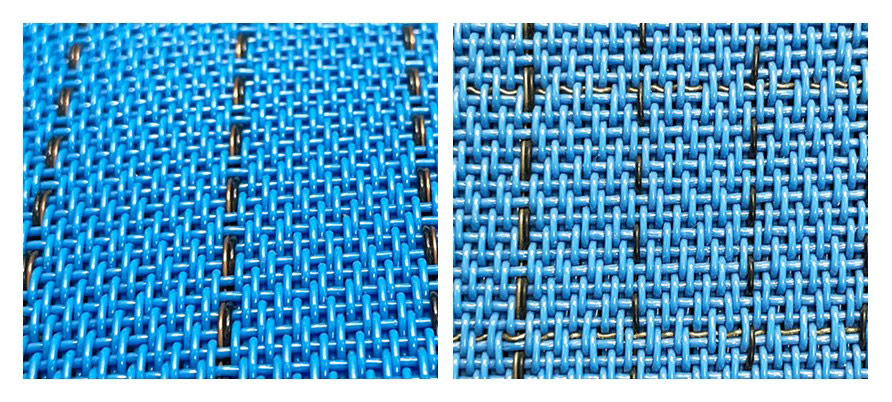 The accumulation of electrostatic charges can be dangerous for different reasons:
● There is a risk of fire and explosion in an environment with a large number of combustible materials.
● Produce radio interference, which may cause damage to electrical equipment.
● Workers are at risk of electrical injury when they touch the conveyor belt or something being conveyed.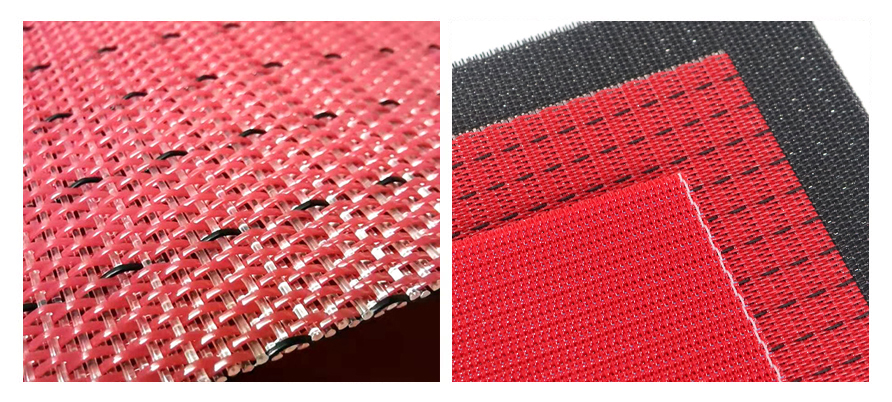 In order to solve these potential hazards, PFM Screen designed these antistatic mesh conductive belts to drive and dissipate surface static electricity accumulate during operation.
There is a conductive fiber through the polyester anti-static fabrics which can release the friction electrostatic, thus play a role in anti-static.
The antistatic mesh conductive belts are woven from polyester monofilament and carbon or copper wire with good conductivity.
Feature
The conductive process conveyor belt has the following important advantages
● Excellent conductive threads ensure safe static discharge performance, prevent static accumulating.
● The air permeability adjustable to fulfill the various requirements of different uses.
● Uniform air permeability can achieve an excellent ventilation effect and eliminate the possibility of clogging.
● Tight warp and weft connection makes this fabric not easy to deform.
● Good heat setting post-treatment for stable structure, low thermal shrinkage, low thermal elongation, excellent running performance, which could ensure straight run in minimum off-tracking, also stable in dimension.
● Excellent anti-wear strength and moisture resistance.
● Low thermal shrinking and less elongation at heat.
● The even and smooth surface is easy to clean.
● Has good chemical resistance (such as acids and organic solvents).
● These antistatic process belts fulfill the ATEX requirements for use in equipment group II, categories 3G and 3D.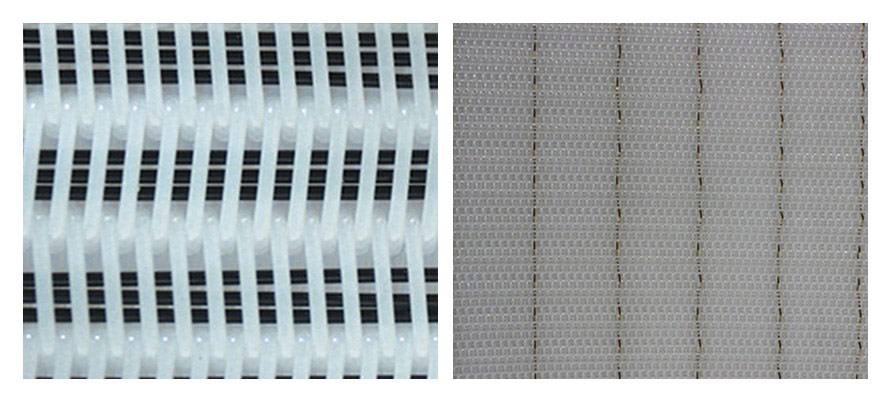 Application
● Antistatic mesh belt is widely used in airlaid, spunlaid, wetlaid & drylaid nonwoven forming, wood fiberboard, dust-free paper, chemical fiber, and other industries.
● Used as continuous pre-pressing mesh belt in chemical fiber, pulp dry papermaking, fiberboard, and other industries.
● In applications, such as spunbond, meltblown, card and wetlaid nonwovens, the conductive fiber ensures reliable electrostatic discharge.
● Characteristic of antistatic mesh belt can also be used in environmental protection, rubber, chemical industry and other anti-static industries.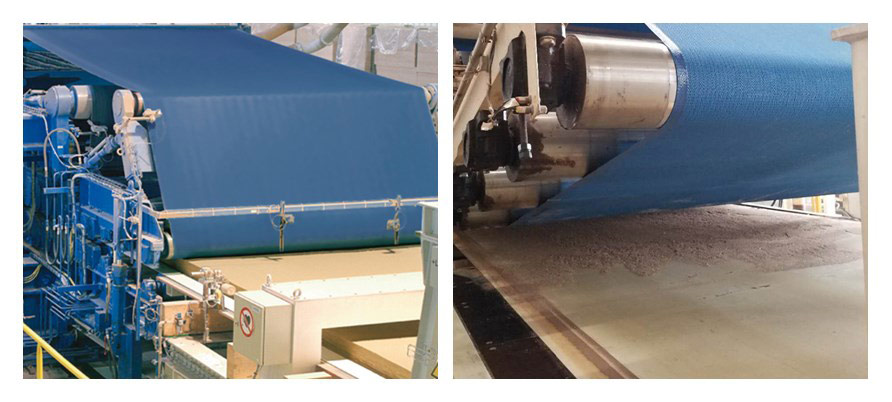 Antistatic Synthetic Mesh Belts for Wood Fiber boards
Antistatic Synthetic Mesh Belts for Nonwovens
Specifications
Model of Conductive Conveyor Belts
Wire diameter (mm)
Density (wire/centimeter)
Strength(N/cm)
Permeability (m³/㎡h)
Electric conductivity (Ω*cm)
Warp
Weft
Warp
Weft
Area of the surface
12708/anti-static
0.46x0.68(Flat Yarn)
0.7
14.1
7.3
≥2000
8000
≥5000
14708/anti-static
0.64
0.7
15
8
≥2000
11200
≥5000
14804/anti-static
0.65
0.8
14.8
7.2
≥2000
6800
≥5000
14804-1/anti-static
0.65
0.8
14.8
7.2
≥2000
6800
≥5000
31505/anti-static
0.4
0.5
33
9
≥1600
2976
≥5000
4106/anti-static
0.5
0.5
23
12
≥2000
6800
≥5000
4106-3/anti-static
0.5
0.3/0.7
22.8


≥2200
8000
≥5000
4080/anti-static
0.9
1.1




≥2000
20000
≥5000