The filter belt is a component of the belt filter that is used to remove water from liquid wastewater residuals and produce a non-liquid material. Dewatering wastewater solids reduces the volume of residuals, improves operation, and reduces costs for subsequent storage, processing, transfer, end-use, or disposal among other benefits.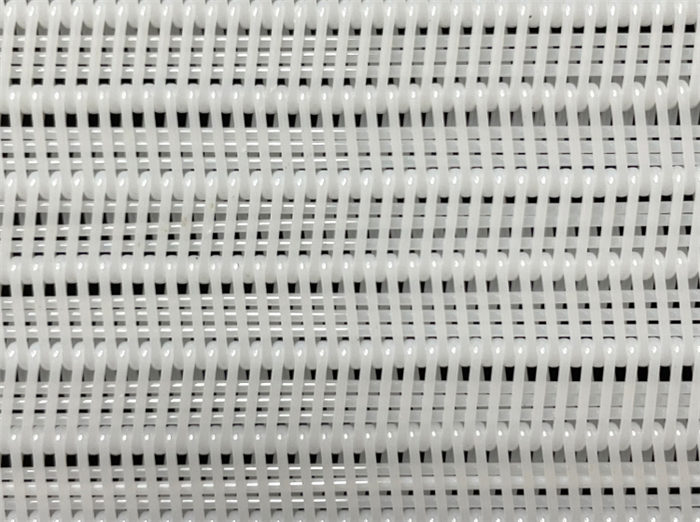 Polyester Spiral Press Filter Belts
---
The Benefits of Filter Belts
Treat Special Sludge
Some sludge, such as sludge from railway, petroleum and diatomaceous earth treatment wastewater. Other types of filter presses cannot handle well, and belt filter presses can achieve very good results.
Stable Operation and Long Service Life
The belt filter belt has high strength and a short length. Due to the special adjustment structure, it is not easy to damage. The filter belt has a long service life and stable operation. Use high-strength stainless steel bearings instead of traditional carbon steel bearings. The corrosion resistance is greatly improved, and the service life of the equipment can be up to 10 years.
Small Footprint
Due to the special structure, the belt filter press only occupies 1/2 of the equipment. But it achieves the same treatment effect as other filter presses.
Simple Operation
Due to the simple structure and reasonable design, the operation of the belt filter press is not as complicated as other filter presses, and even ordinary workers can operate it.
Low Energy Costs
Under the same circumstances, the processing effect of the belt filter press is the same as other presses, but the water consumption and power consumption are only 1/3 of other equipment.
---
The Application of the Filter Belts
In Juice Manufacturing
The belt filter is mainly used for dewatering of sludge and slurry and juice extraction from apples, pears and other fruits, as well as grapes for winemaking, etc.
In Industry
Belt filters are used industrially in a range of areas including urban sewage and wastewater treatment, metallurgy and mining, steel plants, coal plants, breweries, dyeing, tanneries, as well as chemical and paper factories. In industry, any sludge or slurry is sourced from food processing wastes, pulp and paper wastes, chemical sludge, pharmaceutical wastes, industrial waste processing sludge, and petrochemical wastes.These wastes can include mixed sludge, ore slurry, dust deposits, selected coal sludge, biological sludge, primary Mud and straw, wood or waste paper pulp.
In Municipal
The sludge from municipal use includes raw, anaerobically digested and aerobically digested sludge, alum sludge, lime softening sludge and river water silt.
Other Uses
Other dewatering purposes, such as reducing the volume to reduce transportation and storage costs; removing liquid from the waste before disposal in the landfill, in order to reduce fuel requirements before further drying or incineration; and optimizing other drying processes.
Beijing PFM Screen was established in 1987, is a professional large-scale manufacturer of paper machine clothing (forming fabrics, press felts, and dryer fabrics), filter belts, filter mesh, and polyester mesh belts.
We provide filter belts for industries such as Mining/raw, Materials, Papermaking, Floor covering, Chemical industry, Fertilizers, Fruit juice, Wood-Based Panels processing, Food processing, Flue gas desulphurization, Sludge dewatering, Vacuum belt filter, Grinding coolants, Nonwovens, and so on.
If you want to learn more about our products, please contact us.